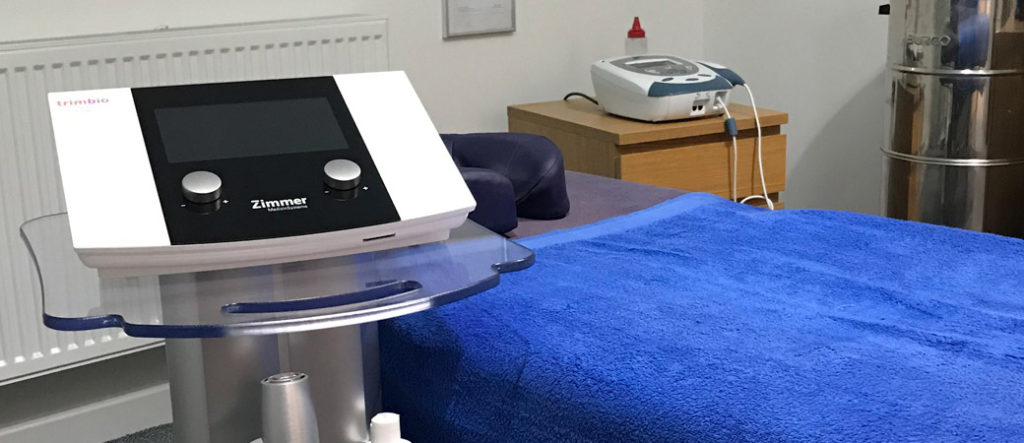 Therapeutic shock waves were introduced over 20 years ago, as a medical treatment for breaking down kidney stones without causing skin injury. Today, shockwave therapy is used to treat specific chronic conditions and has been reviewed and accepted by NICE (UK National Institute for Health and Care Excellence). Further reading can be found www.nice.org.uk
Shockwave Therapy is a non-invasive procedure used in the treatment of many musculoskeletal conditions, mainly those involving connective tissues such as ligaments and tendons. 
How does Shockwave Therapy work?
Here at GTD, we use Radial Shockwave Therapy.  Our equipment is used for the electromagnetic generation & application of radial shockwaves through the skin and into soft tissue. These waves cause a controlled impact on the tissue being treated. This results in a biological reaction within the cells of that tissue, causing an increase in blood circulation through the injured site and accelerating the body's natural healing processes. 
Individual Shockwave Therapy treatments usually involve delivering about 2,000 Shockwave pulses or "shots" per treatment area. This takes about 5-10 minutes.
Is it dangerous?
Shockwave Therapy is:
Safe
Non-invasive
Cost effective for chronic conditions.
Can help eliminate the need for invasive surgical procedures & postoperative pain.
There are some possible side effects which are considered normal post treatment:
Redding or bruising to treatment area
Irritation 
Swelling or pain to treatment area
Is Shockwave Therapy for me?
Shockwave therapy is most suited for people who have chronic tendinopathies (commonly referred to as tendinitis) which have not responded to the more traditional forms of treatment.   
For example:
Feet – Heel spurs, Plantar Fasciitis, Achilles Tendonitis
Elbow – Tennis and Golfers' elbow
Shoulder – Calcific Tendinosis of rotator cuff muscles
Knee – Patellar Tendonitis
Hip – Bursitis
Lower leg – Shin Splints
Upper leg – Iliotibial Band Friction Syndrome
Back pain – Lumbar and Cervical spine regions and Chronic Muscular Pain
However, if you answer yes to any of the following Contraindications, Shockwave Therapy is not an option for you:
Circulation or nerve disorder 
Infection or open wounds
Bone tumour or active cancer
Pregnant 
Using blood-thinning medications (e.g. Warfarin) or have severe circulatory disorders.
If you are in any doubt, your Therapist will be able to offer further guidance as to your suitability for treatment.
Your First Appointment:
You will be asked to complete a Client Consent Form, to confirm that you are an appropriate candidate for shockwave therapy. Before treatment commences, your Therapist will give you an opportunity to experience the pulse sensation before targeting your actual treatment area. The treatment itself can cause mild discomfort, but it only lasts a few minutes, and the intensity can be adjusted to keep it comfortable. 
Shockwave treatment is usually offered once a week for 3-6 weeks, depending on results. It is recommended that 48-72 hours is allowed between treatments.
After Care:
Possible side effects should only last a few days:
– Redding / bruising / tenderness to treatment area
– Irritation 
– Swelling to treatment area
DO NOT exercise for 24 hours post treatment.
DO NOT take anti-inflammatory medication after treatment. Pain relief medications ONLY can be used.
Treatment Costs:
Current research indicates that positive results tend to show themselves after a minimum of 3 treatments. To ensure treatment is cost effective, clients are encouraged to take advantage of the 3-treatment package. This can be repeated, or single treatments are available.
Single Treatment: £60.00
3-Treatment Package: £144.00 (Discounted by 20%)